Signature Suite
The Signature Suite is simply amazing.
---
Slideshow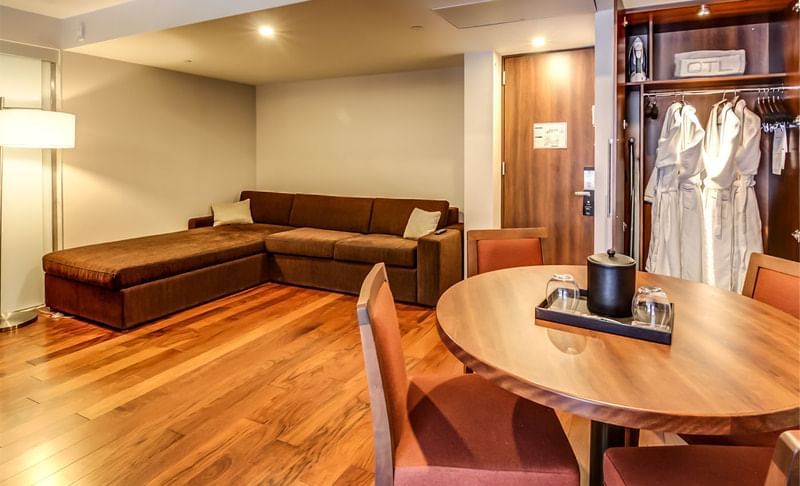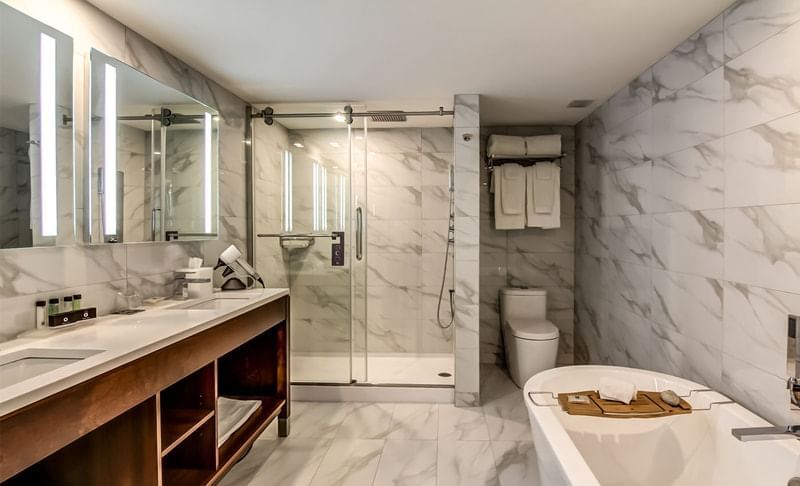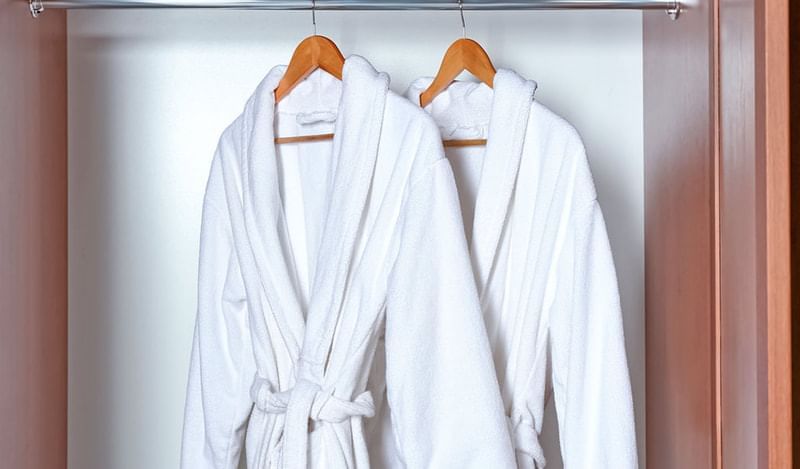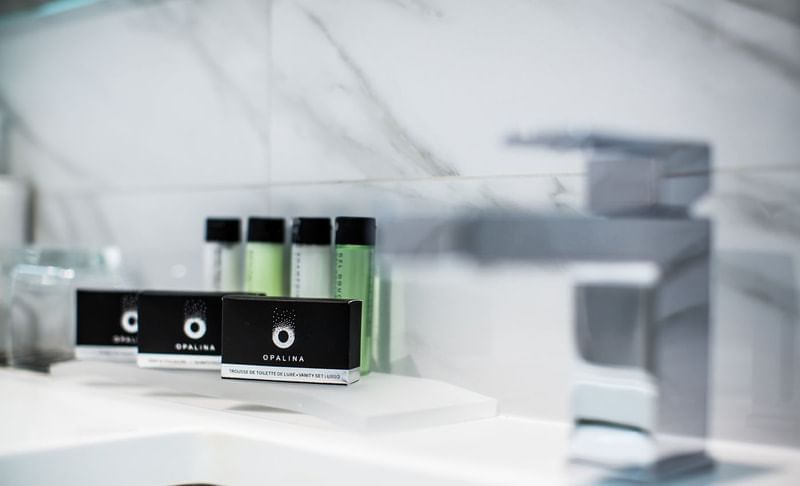 Housekeeping and fresh towels and toiletries are available upon request between 8 a.m. and 2 p.m. with a delay of two hours.
In addition to the outstanding features of the other rooms, the Signature Suite offers the following:

Exotic wood floor imported from Brazil
Dining area for 4 guests

Living room with sofa, table and 50-in flat screen TV

Separate room with a second television

Meal counter with microwave oven and refrigerator

Large bathroom with two sinks, a modern shower and a clawfoot tub

Exceptional soundproofing that assures you peace and quiet
More exceptional features

Enjoy free long-distance calls throughout North America.

The large-sized glass shower has hydro-massage jets for full relaxation. Deluxe ​dental products (mouthwash and dental floss) are included.

A Nespresso machine offers five kinds of coffee and five kinds of tea.

The umbrella keeps you dry during rainy days.

Every room comes with a free notebook.

Enjoy a truly restful sleep in a Moie Collection bed offering six layers of ultra-comfortable bedding, five soft goose down pillows (including an exceptional body pillow) and a pillow-top mattress with memory foam.
Bed description
King-size* or Queen-size bed
Deluxe Moie Collection mattress with top-quality memory foam and pocket springs
Bedding by Moie Collection: 100% cotton with a 400 thread count for ultimate comfort (hypoallergenic products available)
Light, enveloping and utterly exceptional goose down duvet
Superior-quality pillows by Moie Collection filled with top-quality goose down (hypoallergenic products available)

Our marble and quartz bathroom is perfect for a well-deserved break. It features heated floors with individual control and a glass shower complete with rainfall and hand-held shower heads.
Bathrooms
Modern marble and quartz finish
Heated floor with individual controls
Spacious glass shower with rainfall and hand-held shower heads
High quality faucets with modern design
Backlit anti-fog mirror
Magnifying mirror
Italian-inspired toiletry products by Opalina
High-air-flow hair dryer
Multiple very large size towels, 100% high-quality cotton

The Signature Suite has a Nespresso coffee machine and a whole range of services to truly enjoy your stay.
Refreshments and Food
Full personalized breakfast included

from 6:30 to 10:30 a.m. during the week
from 6:30 to 11 a.m. during weekend

Nespresso coffee and tea machine
Water bottles
Refrigerator
Room service available
Bar-restaurant (Boefish | Steak | Fish | Bar)
Wine cooler-dispensers

With high-speed internet, you can meet the requirements of the modern workplace, comfortably seated in an ergonomic chair behind a large work table fitted with outlets for electronic devices of all kinds.
Internet
Free wired and secured internet in every room
Free wireless internet access
Television
Content streaming via Chromecast available in every room.
Phone
Use the two-station wireless telephone to communicate anywhere you want at any time.

Stay connected with a multifunction iPad that acts as your alarm, your radio, your source of news and your means of communication with all the hotel's services.
Technology
Multifunctional iPad for room service, special requests, access to over 25 international online newspapers and check-out
50-inch flatscreen TV
Smart TV stand (HDMI, USB, phone and 120v AC connectivity — cables not included)
Wide choice of specialized HD TV channels
Two wireless phones

Services and Facilities
Quiet central air conditioning
Soundproof room
Adjoining rooms available
Laundry service
Personalised wake-up service

Furniture
Designer furniture in birch and granite
Large birch desk with connectivity
Multifunctional power supply base
Ergonomic swivel chairs
Full-length mirror

Room's Equipment and Accessories
LED lighting
Safe
Iron and full-size ironing board
100% cotton bathrobe
Cushioned anti-skid slippers
Wooden hangers
Ice bucket
Wine glasses
Bottle opener

Amenities for people with reduced mobility*
17 rooms (13 Superior and 4 Premium) are available to respect governement standards, 10% of all rooms
Lowered counter and toilet with grab bars in the bathroom
Bathtub/shower accessible for people with reduced mobility
Depending on availabilities, bookings for a room with a king-size bed may be attributed an adapted room*

Pets
A complete welcome package for pets is available upon request ($)
Animals are limited to a pair, with a 35$/night/animal fee